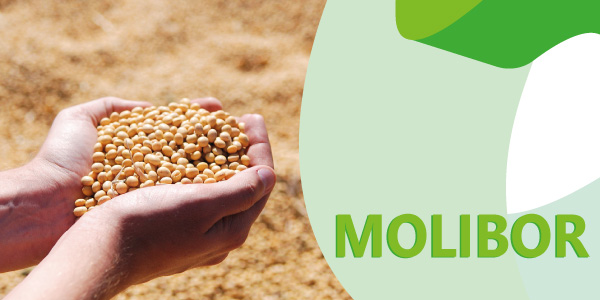 Molybdenum is an essential element for Nitrogen's cycle in plants, because it guarantee an an optimal assimilation and use of this last element by the crops , for the proteins synthesis and to reduce the accumulation of nitrate in vegetables.
Molybdenum is very important for
legumes
(they use it in high quantities) since it is part of Nitrate Reductase enzyme which is the main responsible of the biological
atmospheric nitrogen fixation.
Our suggestion is

MOLIBOR

, a liquid fertilizer with Molybdenum and Boron in a complex form
completely absorbed by plants' aerial apparatus and allowed in Italian organic agriculture.
treatments with
MOLIBOR
achieve an optimal absorption of Nitrogen in the crops by improving the vegetative cycle.
MOLIBOR
is very suggested for legumes to improve root nodules. We suggest its use on
soy
(to match weeding treatment) and on
alfalfa
(after mowing 15-25 cm long) with a dose of 2 kg/Ha.
Click
HERE
to have more information about our product!