Thanks to its active nutritional and pseudo-hormonal biocomponents,
BUDDLY-UP SF
supplies the essential metabolic substances to the cells (both newly formed and in formation) during the budding stage, saving metabolic energy of the plant, which is essential for the biosynthesis of the above-mentioned elements.
The amino acids contained in it are the precursors necessary to start the natural-auxin formation process (increasing of the phyto-hormonal potential of treated plant), essential during flowering and fruit set.
The use of
BUDDLY-UP SF
ensure:
• buds stengthening;
• more flowers / better flowering;
• increment of sprouting;
•
It is allowed in
ORGANIC AGRICULTURE
;
Application of
BUDDLY-UP SF
on fruit trees: swelling buds dose of 1-2 kg/ha with 150/170 litres of water.
You can see below some results obtained from the application of
BUDDLY-UP SF
on apple in Conselice (Ravenna district). The first benefits for the plants were visible already during flowering and we kept monitor the evolution of our trial passing by all the phenological stage, collecting all the data: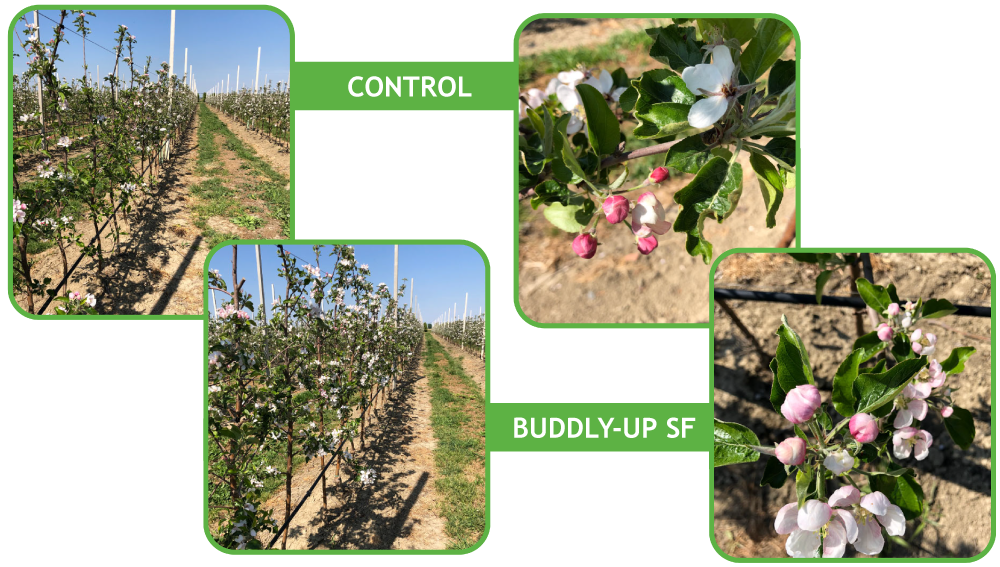 ---
Demetra Italia s.r.l. |
box@demetra.eu | tel. +39 0542 670170 |
5, Via San Vitale - Imola (BO) Italy |
Factory: 6, Via delle Arti -
Castel Guelfo (BO) Italy |
VAT: IT00596661207