BRIOCALL FORTE
PS
– The importance of Calcium for cherries
It goes on in our labs the research and formulation of new products with biostimulants characteristics which have now become the most important gamma of our catalogue.
The cell wall represents one of the first barrier to defend the plant from the degrade of tissues. Plants can respond to pathogen infection by strengthening the cell wall that, thanks to Calcium pectates (salts of pectic acid), will be stronger and will guarantee to the fruits shelf life and quality also in case of high moisture during harvest, reducing fruits' destruction.
We formulated

BRIOCALL FORTE PS

to improve and increase plant's self-response.
BRIOCALL FORTE PS
Active formulation made of Calcium with specific trace elements (iron, zinc and manganese) which stimulates the accumulation of calcium pectates inside the cell wall
·
Improves the information process which initiates the storage of calcium storage in cell wall;
· Stimulates receptor of pectin
The physiological answer of the plant to the stimulus due to
BRIOCALL FORTE PS
application occurs within fifteen days following the treatment, resulting in an important accumulation of Calcium pectates in fruits and an increase of total Calcium in the leaves and other tissues.
We suggest to treat cherries in veraison phase with 2 kg/Ha of product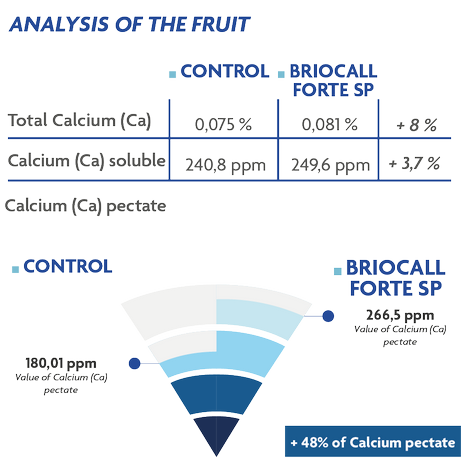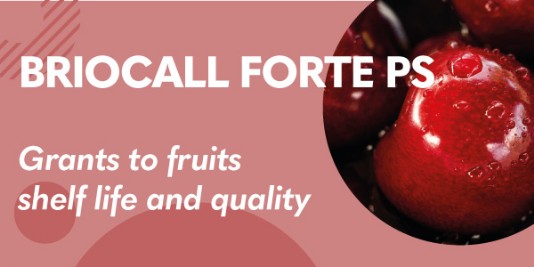 ---
Demetra Italia s.r.l. |
box@demetra.eu | tel. +39 0542 627169 |
5, Via San Vitale - Imola (BO) Italy |
Factory: 6, Via delle Arti -
Castel Guelfo (BO) Italy |
VAT: IT00596661207