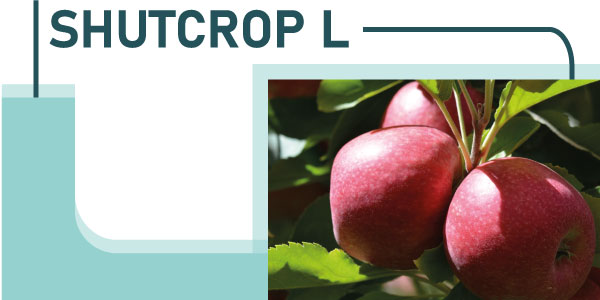 Summer time is the moment to improve the organoleptic characteristics (color, taste, fruit size, brix..) of fruits by using specific products.
Our
COMPLEX BIOSTIMULANTS
are created with specific goals that change from a product to another one to satisfy all agricultural needs.
To ensure a profitable and healthy orchard this week we suggest:
Product on the market for many year which satisfied all apples producers
Solution of potassium salts low in chloride
Perfect to guarantee red coloration of APPLES
Enhances intensity of the color;
Increases the colored surface;
Activates the enzymatic process of sugar and proteins synthesis;
Improves sugar content
The use of
SHUTCROP L
ensures a lot of advantages: the
quality of fruits
increases and the
choice of the ones to harvest is easier
,
allowing to the farmer to
gain time and consequently to have an economic advantage
(more fruits harvested at the first step, faster harvest).
Doses: 4/5 kg/Ha 25-30 days before the first harvest. Use at least 8/10 ql of water; the product is miscible.
Our
COMPLEX BIOSTIMULANTS
contains all our know how and technical innovation that always characterize us, combined with our trials in field (they are taking place in this period) and studied in detail to assure the best result possible.
CLICK HERE FOR FURTHER INFORMATION