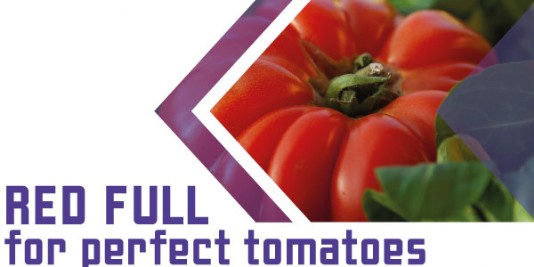 We keep on our journey to the discovery of our
COMPLEX BIOSTIMULANTS
BY DEMETRA
, products created from our engagement in research natural and innovative solutions to the single difficulty of the crops.
Today we show you
RED FULL
, a biostimulant high in potassium activated by plant based selected amino acids.
RED FULL
acts during the ripening stage, improving all the biochemical processes and working as enzymatic activator in the synthesis process of sugars and proteins.
The application of
RED FULL
is very suggested during the ripening stage of all juicy fruits and grapevine, but it is perfect to be used especially on
tomatoes
.
Included in a fertilization plan with amino acids and copper, its application
before the harvest
(10/15 days before)
at the dose of 5 kg/Ha
(foliar treatment - well wetting foliar apparatus)
guarantees a
regular ripening of tomatoes
and contributes to their
transformation from orange to red in a natural way,
reducing waste during harvest, avoiding rottenness in field and a reduction of the shelf life, problem that occur with the use of chemical ripening products.