Our HUMIC ACIDS gamma includes products of natural origin, selected and handled paying close attention to active matter's concentration and stability of the final formula.
Today we present you
UMITER D
, Leonardite coming from the richest deposits of North America high in humic and fulvic acids, that is one of DEMETRA's ancient product, present in our catalogue from many years with guaranteed results.
UMITER D
is an organic soil improver in granular form to be applied with spreader. Its use is very suggested because the product:
- is ODOURLESS: it is easy to stock and it does not attract animals in the fruit orchard (such as mice), avoiding the creation of underground passages that damage roots apparatus of trees;
- works in synergy with mycorrhizas. It is an optimal substratum for micro-organisms of rhizosphere, increasing the metabolic activity of the soil;
- has a gradual and prolonged effect: Leonardite needs at least a few months to be transformed in humic and fulvic acids and be available
for the plants;
- has an auxine-similar action: it increases and stimulates roots surface, improving nutrients' consumption too.
- improves soil structure
Dose of
UMITER D
change according to its use:
- 200/300 kg/ha in outstanding fruit orchard or on a soil for seed or transplant of vegetables;
- 200 gr/plant in case of replacement of dead plants, to be used on roots of the replaced plants;

- 20/30 kg/m3 to be mixed with turf for nurseries plants.
Packing: 25 kg bags or 1.000 kg super bags.
CLICK
HERE
FOR MORE INFORMATION ABOUT THE PRODUCT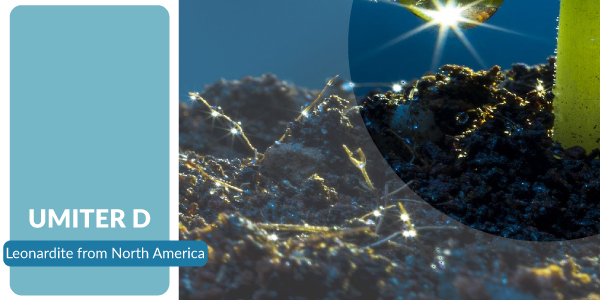 ---
Demetra Italia s.r.l. |
box@demetra.eu | tel. +39 0542 670170 |
5, Via San Vitale - Imola (BO) Italy |
Factory: 6, Via delle Arti -
Castel Guelfo (BO) Italy |
VAT: IT00596661207