Our wide gamma of technical means represents one of the most complete list of the best specialties needed in agriculture.
We constantly work to improve quality of our products and this has allowed us to realize a new line of water soluble formulation:
NECTARYA GOLD LINE
.
NECTARYA
is the most up-to-date representation of what productive technologies will ever reach. Our new production plan has been built to give the right value to raw material, guaranteeing high performances and great results to all
products.
The parameters of
purity, solubility, pH control, targeted analysis
and
productive standards
are strictly adhered to and guaranteed by an accurate evaluation of raw materials' origin that must respect the highest quality standards that we impose to our suppliers: certifications, analysis, samples and physical tests are always observed by our Quality Office.
Today, excellence is the essential condition required to our suppliers, located only in the Old European country.
NECTARYA
includes four different lines of production and assorted formulations available:
MIRAFOIL
especially recommended for foliar treatment. Fertilizing elements are activated by an organic biostimulant source which enhances speed and facility of absorption by leaves. Available formulas:
MIRA FOIL 7-5-38,
MIRA FOIL 10-43-7,
MIRA FOIL NP
K
;
MAGNUS PLANT
: the most advanced production techniques to grant the
maximal
accessibility of
nutrients both for leaves and roots. Available formulas:
MAGNUS PLANT
8-6-40, MAGNUS PLANT 12-48-8,
MAGNUS PLANT 30-10-5,
MAGNUS PLANT NPK
;
ASIDICA
: high chemical technology to allow the right contribute of Calcium to the crops, granting a correct nutritional intake. For fertigation only. Available formulas:
ASIDICA 14-7-27 + 7 CaO, ASIDICA 14-29-10 + 6 CaO, ASIDICA 18-7-22 + 6 CaO;
HYDROSOL
: represents the most practical solution for a correct fertilization through roots apparatus of the plants. Another special characteristic of this line is the acid pH from 2,9 to a maximum of 4,9. Available formulas:
HYDROSOL 10-6-40,
HYDROSOL 17-34-5,
HYDROSOL 20-5-30,
HYDROSOL 20-20-20,
HYDROSOL 20-20-20 + micro,
HYDROSOL 24-5-16 + 2 MgO,
HYDROSOL 30-10-5,
HYDROSOL WAXY TOP.
CLICK HERE FOR MORE INFORMATION ABOUT OUR PRODUCTS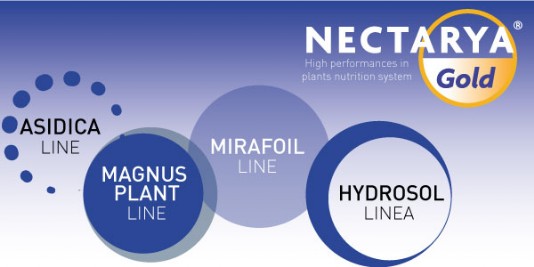 ---
Demetra Italia s.r.l. |
box@demetra.eu | tel. +39 0542 670170 |
5, Via San Vitale - Imola (BO) Italy |
Factory: 6, Via delle Arti -
Castel Guelfo (BO) Italy |
VAT: IT00596661207