This is the time for late harvest of some
apples' varieties
(Pink gala, Rosy glow) and it is the moment to evaluate the results of work and treatments performed all season long.
Among our products the one we suggest for apples is
SHUTCROP L
, part of our COMPLEX BIOSTIMULANTS gamma which contains all our know how and technical innovation that always characterize us, combined with our trials in field of which we are collecting all data and results, and studied in detail to assure the best result possible.
SHUTCROP L
has been on the market for many years and it has satisfied many apples producers. It is a solution of potassium salts low in chloride especially developed to improve organoleptic proprieties of fruits, notably red coloration of apples.
Enhances intensity of the color;
Increases the colored surface;
Activates the enzymatic process of sugar and proteins synthesis;
The use of
SHUTCROP L
ensures a lot of advantages: quality of fruits increases and the choice of the ones to be harvested is easier, allowing to the farmer a gain of time and consequently an economic advantage (more fruits harvested at the first step, faster harvest).
Doses:
4/5 kg/Ha 25-30 days before the first harvest. Use at least 8/10 ql of water; the product is miscible.
CLICK HERE FOR FURTHER INFORMATION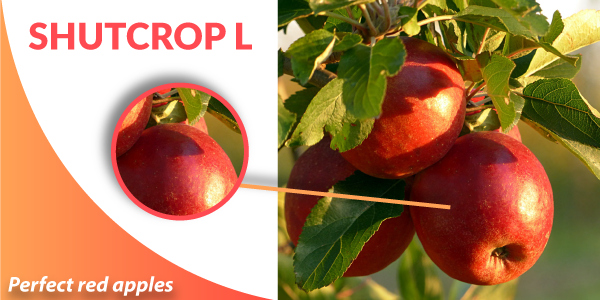 ---
Demetra Italia s.r.l. |
box@demetra.eu | tel. +39 0542 670170 |
5, Via San Vitale - Imola (BO) Italy |
Factory: 6, Via delle Arti -
Castel Guelfo (BO) Italy |
VAT: IT00596661207