Recently, temperatures seem increasingly "uncontrollable". Also this year summer burst suddenly, causing thermal changes and the advance of vegetation by the plants.
Being ready for this condition is essential: we recommend the use of our COMPLEX BIOSTIMULANTS, products able to ensure an excellent yield of the treated crops, increasing the final production.
We are always attentive to the raw materials we use, mostly of natural origin and which allow many of our products to be used also in organic agriculture.
One of the best product composing our organic gamma is
SUNCROP SF
, a complex biostimulant with a high concentration of growth factors (the right mix inside it), which activates and optimizes all the main physiological moments that regulate the final production.
- Contributes to the perfect growth of the fruit;
- Keeps the plant in balance;
- Helps the plant to overcome stress situations.
Moreover, thanks to its natural composition,
SUNCROP SF
does not create all those problems related to phyto chemical regulators and it is allowed in organic agriculture.
SUNCROP SF
is very suitable for vegetables (lettuce, green beans, peas, melon, watermelon, tomato, etc.) to increase their size and improve the vegetation, especially in this period of stress due to high temperatures. Its use is also very suggested for orchard.
SUNCROP SF
can be used also on fruit trees, even in the nursery, when it is necessary to stimulate the plant for the functions indicated above.
The right combination of
SUNCROP SF
with a correct nutritional plan ensures a balanced vegetation level and a productive increase for treated crops.
As usual, for the dosages and the correct insertion of this product in a recovery strategy, we refer you to the advice of the technician.
CLICK
HERE
TO GET FURTHER INFORMATION ABOUT OUR PRODUCTS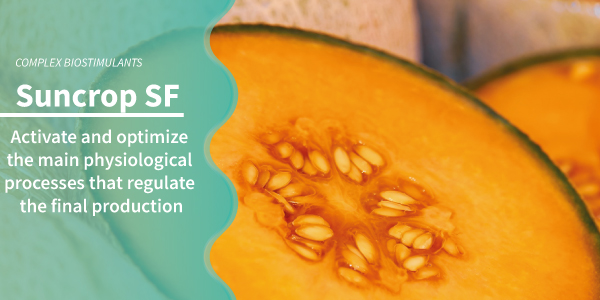 ---
Demetra Italia s.r.l. |
box@demetraitalia.it | tel. +39 0542 670170 |
Via San Vitale, 5 - Imola (BO) Italia |
Stabilimento
: Via delle Arti, 6 -
Castel Guelfo (BO) Italia |
P.IVA: IT00596661207