RED FULL is part of our range of COMPLEX BIOSTIMULANTS and is a simple mineral fertilizer high in potassium, therefore suitable for use during ripening.
DEMETRA
has been studying the composition of this product since 2004, carrying out numerous field tests and analyses, and finally has improved its formula to obtain the one currently on the market, created to meet all the requests received by farmers in these years.
RED FULL is activated by a selection of plant based amino acids and acts during the ripening stage, improving all the biochemical processes of the plant. Treatments made before the harvest contribute to the improvement of the organoleptic and marketable characteristics of the fruit; it also acts as an enzymatic activator in the process of synthesis of sugars and proteins.
Our product is
very suggested for tomatoes
. The advantages that derive from the use of
RED FULL
on this crop have been documented over the years through several trials in field (which you can request
HERE
). Inserted in a correct application strategy on the advice of a specialized technician, with
RED FULL
you can get:
- uniformity of ripening;
- anticipated collection;
- control of vegetative development;
- practice of use (low doses per hectare)
Moreover, among the considerations of the farms where the field trials were carried out it was noticed that tomatoes treated with had a better oranges color and the waste founded on the soil was reduced when compared to the untreated.
Another resulting advantage of using this product is a regular growth of the berries, avoiding the occurrence of rottenness and malformations that would compromise the final qualities of the tomato.
The product is miscible; we suggest to dilute it in 700-800 liters of water per hectare.
RECOMMENDED APPLICATION STRATEGY:
10-12 days before the planned harvest. Doses per hectare:
CLICK HERE TO CONTACT US FOR MORE INFORMATION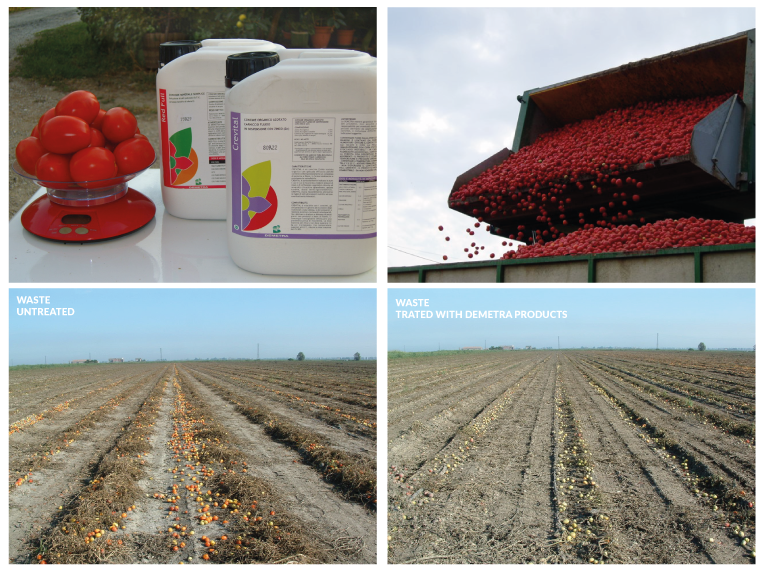 ---
Demetra Italia s.r.l. |
box@demetra.eu | tel. +39 0542 670170 |
5, Via San Vitale - Imola (BO) Italy |
Factory: 6, Via delle Arti -
Castel Guelfo (BO) Italy |
VAT: IT00596661207