The product to be explored in this newsletter is
SHUTCROP L
, present on the market for several years and which has satisfied many apple producers. It is a
solution of potassium salts specifically designed to improve the organoleptic qualities of fruits, especially the
red color of apples
. We have carried out several trials in field in the last years and this led us to constantly refine the composition of the product and the co-formulates of its formula.
- Enhances the color in its intensity;
- Increase the colored surface;
- Activates the enzymatic process of sugars and proteins synthesis;
- Extends shelf-life of the fruits;
- Incereases the sugar content;
Using
SHUTCROP L
gives several advantages: the quality of the fruits increases and the choice in harvesting is facilitated, allowing the operator to save time and, consequently, have an economic benefit (more fruits are gathered during the first detachment, harvest is faster).
The applications in the varieties of
pear Carmen, Santa Maria and William red aim to increase to increase the colorful facet of the fruit and they give interesting results as well as ones on
Golden apples
(Melinda Golden), were treatments were made to obtain a partial coloration of apple peel with excellent effects.
After a careful management of the apple orchard (pruning or trimming, fruit tree form), treatment with
SHUTCOP L
is a significant help to ensure colored fruits more marketable, especially in lowland where the color problem is more pronounced.
The product is very simple to use: dose of
4\5 kg per hectare
, 25-30 days after the first detachment. Use at least 800/1.000 liters of water/ha.
SHUTCROP L
is a miscible product.
CLICK HERE TO CONTACT US FOR MORE INFORMATION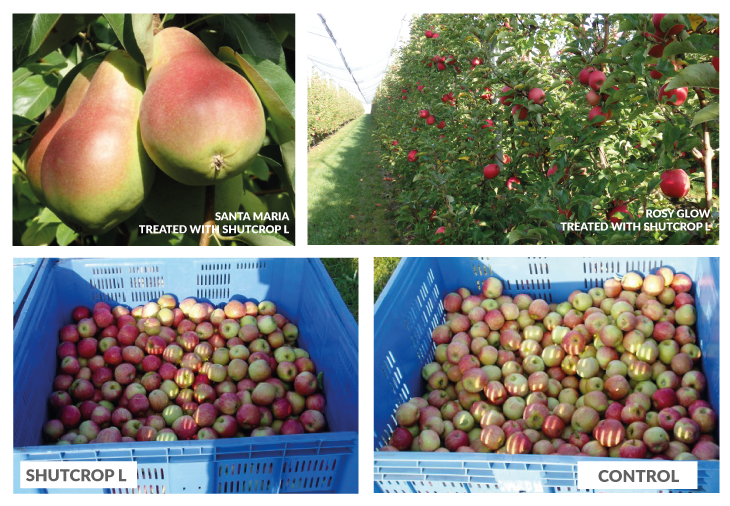 ---
Demetra Italia s.r.l. |
box@demetra.eu | tel. +39 0542 670170 |
5, Via San Vitale - Imola (BO) Italy |
Factory: 6, Via delle Arti -
Castel Guelfo (BO) Italy |
VAT: IT00596661207