In a future perspective that sees the replacement of crops that are shrinking,
vegetables
are more and more important.
DEMETRA
has always been directed to the development of new products and is able to adapt to new market needs. Over the years we have developed a wide range of formulation, to define complete strategies for vegetables, nutritional treatments and biostimulants for a modern agriculture.
For vegetables, both foliar and fertigation treatments are important (to contain, for example, nitrates that would otherwise tend to accumulate in the crop). The purposes to be achieved basically are
the improvement of the organoleptic characteristics of each vegetable such as taste, color or healthiness and of course a
production increase
. Over the years, thanks to the different applications both in open field and in greenhouse on all the most significant crops such as carrots, potatoes, tomato, melon, watermelon, salads, peas, green beans, spinach and others, we have developed products especially suitable for horticulture and application strategies complete to achieve these goals.
It is important to start from a soil in "health", soft and well-structured and provide the crops the need in terms of macro and micro elements at the right time, ensuring a good flowering, fruit-set and organoleptic characteristics (taste for strawberries, uniform size for potatoes...etc.) moreover, nutritional products must go with formulations designed to limit and overcome the stress situations of the plant due to climate change, temperatures or drought.
Specialized technicians who have been following industrial horticultural crops for years support us with their precious collaboration, from the comparison with them we defined the most suitable strategies to achieve goals.
Here below we list the products in our catalogue most used on vegetables and some examples of strategies for use on some crops:
Our list of products is very extensive; this indicates that on every crop and in every phenological phase the right product, be it created for foliar or fertigation treatment, must be recommended by the technicians and included in the strategy.
Example of foliar treatment on carrots, dosages per hectare also in mixture with pesticides:
During the vegetation, a few days after removal of the non-woven fabric,
MAGNUS PLANT NPK
kg 3 +
DEBOR
kg 1.5 +
ALGAMIX
kg 2; repeat the treatment after 10/12 days.
Example of leaf treatment on green beans, dosages per hectare:
combined with weeding,
CREVITAL
kg 3;
after about 20 days from sowing,
ALGA-VITAL SF
kg 1,5/2;
before flowering,
ALGA-VITAL SF
kg 2 +
ERGO STAR SF
kg 2.
Example of foliar treatment on spinach, dosages per hectare, combined with pesticides:
when 6-8 leaves are present,
MARFOL SF
kg 2 +
ERGO STAR SF
kg 1.
To have further and detailed information about our products you can require our catalogue at the following address:
box@demetra.eu
.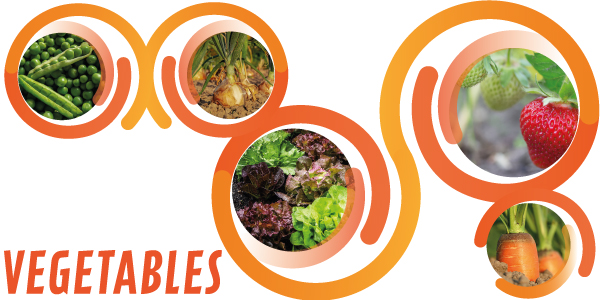 ---
Demetra Italia s.r.l. |
box@demetraitalia.it | tel. +39 0542 670170 |
Via San Vitale, 5 - Imola (BO) Italia |
Stabilimento
: Via delle Arti, 6 -
Castel Guelfo (BO) Italia |
P.IVA: IT00596661207